Ingredients:
1 (15 oz) can Corn
1 can Black Beans
2 Avocados, cubed
2/3 cup Cilantro, chopped
8 Green Onion Stalks, sliced
6 Roma Tomatoes, diced
Dressing:
1/4 cup Olive Oil
1/4 cup Red Wine Vinegar
2 Tbsp Minced Garlic (from a jar)
3/4 tsp Salt
1/8 tsp Peppe
1 tsp Cumin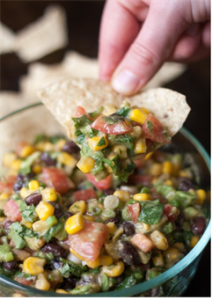 Directions:
Mix first 6 ingredients together and set aside
Combined dressing ingredients in a separate bowl.
Pour dressing into first mixture and toss together until well mixed.
Refrigerate for 30 minutes.
Serve with tortilla chips.